Acest ghid este destinat produselor Office de volum, cum ar fi Office LTSC Standard 2021 și Office LTSC Professional Plus 2021.
Înainte de a instala software-ul, vă rugăm să vă asigurați că:
computerul dvs. îndeplinește cerințele de sistem pentru Office 2021;
sistemul dvs. de operare este actualizat cu cele mai recente actualizări Windows;
următoarele produse Office nu sunt instalate pe computerul dvs. (dacă sunt, dezinstalați-le):
Office Home and Student, Office Home and Business, Office Professional, aplicațiile pentru desktop Microsoft 365, My Office.
Ghid pas cu pas
Accesați onesam.eu și conectați-vă cu adresa de e-mail și numărul comenzii.
Descărcați și rulați aplicația noastră Office 2021 Volume Installer.exe.
Este posibil să vedeți următorul avertisment:


Acest mesaj apare deoarece aplicația este nouă și nu a câștigat, încă, statutul de încredere în sistemele de siguranță Windows. Faceți clic pe Mai multe informații (More info) și alegeți Rulați oricum (Run anyway).
Când se deschide, Office 2021 Volume Installer arată astfel:


Din lista derulantă Product, selectați produsul pe care l-ați achiziționat de la noi.
În câmpul Components, puteți debifa aplicațiile Office pe care nu intenționați să le utilizați.
Din lista derulantă Platform, selectați tipul de arhitectură pentru produsul dvs.: 32 biți sau 64 biți.
De obicei, este mai bine să selectați 64 de biți - astfel produsul dvs. va funcționa mai bine pe sistemele și dispozitivele de operare moderne.
Din lista derulantă Language, alegeți în ce limbă doriți să fie produsul dvs.

După ce ați terminat de personalizat instalarea, faceți clic pe Download & Install.
Așteptați ca produsul dvs. să fie instalat. Bara verde de progres din programul de instalare se va umple de mai multe ori și vor apărea câteva ferestre suplimentare - acest lucru este normal și face parte din proces.
Nu închideți programul de instalare și ferestrele suplimentare ale acestuia, altfel instalarea va fi întreruptă!
Office este complet instalat atunci când vedeți această fereastră: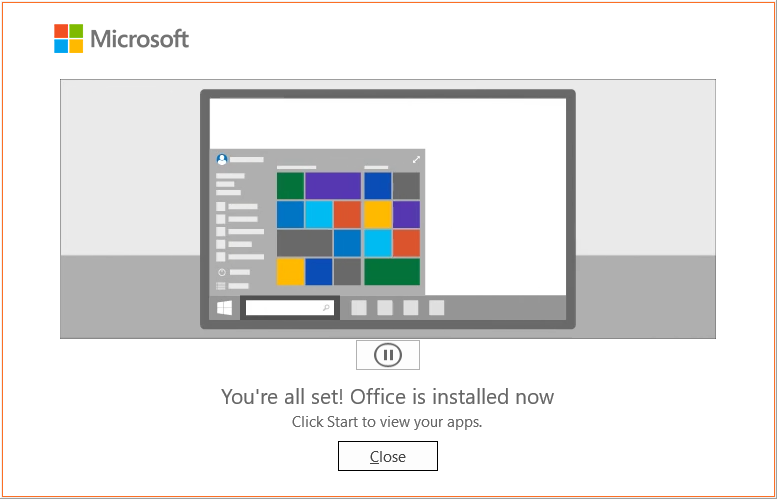 Acum puteți închide programul de instalare și puteți trece la activarea produsului (mergeți la fila Activare pentru instrucțiuni).
Ghid pas cu pas
După ce instalarea Office 2021 este finalizată, trebuie să activați produsul pentru a finaliza procesul.
Rulați orice aplicație Office 2021, de exemplu Word.
Deschideți un document gol.
Accesați meniul Fișier (File) → Cont (Account) și faceți clic pe Modificare cheie de produs (Change Product Key) în câmpul galben.


Introduceți cheia de produs în fereastra pop-up și în câteva momente va apărea butonul Activare Office (Activate Office) – faceți clic pe el, iar produsul dvs. va fi activat și gata de utilizare.