Așa cum am menționat în articolul anterior, suportul pentru Windows 7 se va termina în curând. Conform Microsoft, data temută pentru majoritatea proprietarilor Windows 7 este 14 ianuarie 2020.
În timp ce sistemul de operare va rămâne funcțional, rezolvarea problemelor potențiale s-ar putea dovedi a fi o situație consumatoare de timp pentru dvs., sau pentru afacerea dvs., deoarece va necesita cunoștințe avansate. Acesta este motivul pentru care vă recomandăm să treceți la Windows 10 – Microsoft susține că Windows 10 va fi ultimul sistem de operare pe care îl vor lansa vreodată, astfel încât suportul oficial pentru acesta nu va expira niciodată, iar îmbunătățirile și actualizările constante îl vor ține la curent cu tendințele actuale din tehnologie.
Cum să faceți upgrade la Windows 10

Windows 10 diferă semnificativ de Windows 7 în multe aspecte, dar cerințele hardware minime ale ambelor sisteme de operare sunt aceleași:
Procesor: 1 GHz
Memorie: 1 GB RAM (32-bit) sau 2 GB RAM (64-bit)
Spațiu pe hard disk: 16 GB (32-bit) sau 20 GB (64-bit)
Grafică: procesor grafic DirectX 9 cu driver WDDM 1.0

Veți avea nevoie de încă 2 lucruri, pe lângă cerințele hardware minime enumerate mai sus, pentru a face upgrade la Windows 10: o licență autentică pentru Windows 10 și o conexiune la internet. Asta este tot!
În ceea ce privește procesul în sine – am pregătit un ghid detaliat pentru upgrade la Windows 10 pe care îl puteți citi aici.
Important: Înainte de a face orice modificare a sistemului dvs. de operare, este recomandat, întotdeauna, să efectuați un backup al fișierelor importante.
Alte întrebări pe care le-ați putea avea
Î: Ce fel de licență Windows 10 să aleg?
R: Am pregătit un articol pentru a vă ajuta să decideți: Windows 10 Home vs Windows 10 Pro
Î: Organizația mea are sute de dispozitive cu Windows 7, cum le pot migra, fără probleme, către Windows 10?
R: Vă sfătuim să mergeți pentru o soluție de licențiere de volum – accesați detalii aici: Cum să actualizați sute de dispozitive la Windows 10
română și
mai mult de 10 alte limbi
engleză
germană
franceză
italiană
rusă
spaniolă
portugheză
bulgară
croată
cehă
+ alte câteva limbi
Produs alternativ
Varianta:
certificat electronic
în stoc
Livrare electronica în 5 minute
Momentan stoc epuizat
Livrare prin e-mail
Windows 10 Enterprise LTSC 2019 Upgrade
Compară
Vezi detalii despre produs
Obțineți mai mult la același preț sau la un preț mai mic!
Produsul solicitat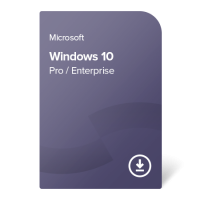 Windows 10 Pro / Enterprise Upgrade
în stoc
Momentan stoc epuizat
Livrare prin e-mail
Transferabil (activare online)
Pentru 1 dispozitiv
Fără dată de expirare
Poate fi instalat pe aproape orice PC sau laptop
Pentru a fi instalat și activat ca versiune completă a Windows 10
Posibilitatea de a alege între Pro și Enterprise LTSC (2019)
Server Error
We're sorry! The server encountered an internal error and was unable to complete your request. Please try again later.
error 500